Each small business owners is tasked with managing risk. From cashflow to capital investment, human resources,  or debt management, the business owner is constantly evaluating potential pitfalls and exposure. Most of these risks can't be transferred away. This is what makes insurance so valuable. It allows you to take some of the businesses risks and transfer them  to another party. So, as you consider the weight of those other challenging risks, let us relive your load a bit and provide you with ten (10) tips to help when buy business insurance.
This isn't a trivial task. No, finding the right small business insurance is an important part of the business plan. As you get started, or you're expanding, your needs shift and the process can become overwhelming. This is especially true for new and emerging businesses.
These 10 tips can help you get prepared for buying business insurance. You'll be have tools to assist in determining the right protection for you business at a price that fits your budget. And, at minimum, you'll understand to assess your needs to meet your legal requirements, evaluate your business risks, and likely save money and and future headaches.
1)

Understand the different types of insurance

Before you get started, you need to understand the different types of coverage available to your business. There isn't a simply set of coverages that are applicable to all operations because business insurance needs vary based on a number of factors. For example, you could have different coverage needs based on your industry, a specialty or niche, and your business assets or property. To provide you a foundation, here are the most common business insurance policies you'll want to consider, and what they cover:
General liability insurance

 

covers your business from lawsuits over third-party injuries, property damage, or advertising injuries like copyright infringement or defamation.
Business owner's policy

Also called a "BOP", this type of policy

combines general liability with commercial property insurance, as well as other coverages in a small business package – usually at a lower cost than when purchased separately.
Commercial property insurance

is a coverage for business property. Generally, it

pays to repair or replace stolen, lost, or damaged business property. This coverage is for things like your office, workspace or warehouse, inventory, equipment, and furnishings.
Business interruption insurance

 

may be included in a BOP or commercial property policy, and covers operating expenses if your business is forced to temporarily for a covered event, like a storm, fire, or other qualifying event.
Professional liability insurance

 

is typically for businesses that provide professional services. It's frequently called errors and omissions insurance

 

(E&O). This type of policy provides coverage for lawsuits or claims over work mistakes, oversights, and negligence.
Cyber liability insurance

if you store or handle customer data, this coverage

helps cover the costs of data/security breaches or other cyber incidents that happen to your business. It can also provide coverage if you are sued over your client's data breach.
Workers' compensation insurance

is for businesses with employees. It

will pay medical expenses and lost wages for employees with work-related injuries or illnesses. This coverage can normally add

 

employer's liability insurance

for added protection

against employee lawsuits over negligence.
Commercial auto insurance

is for businesses with driving or delivery risks. It

covers medical expenses, property damage, and legal expenses if your business vehicles are involved in an accident.
Hired and non-owned auto insurance can often be added to your commercial auto policy and will help pay for accidents involving a personal, rental, or leased vehicle that is used for business purposes.
2)

What insurance is legally or contractually required?

Buying business insurance is a good investment for the small business owner – it's just the right, and proper choice. However, in some cases, it may not be a choice left to you. Certain types of insurance may be required. Understanding if insurance is required by your small business will depend on a few things, like your industry, the state(s) you operate within, your clients, lenders, or landlord. Each of relationships or conditions conditions may create a requirement for you to carry certain types coverage.

For example, if you are leasing commercial space, your landlord or property management company may require you to have general liability insurance. Why? Because it covers potential third-party lawsuits over claims of bodily injury or property damage that happen on the premises. Moreover, if you're buying your commercial space, mortgage lenders often have similar requirements for commercial property owners.

In just about ever state, businesses with employees must carry workers' compensation insurance. Sure, regulations will vary by state, but most require you to get coverage when you hire your first employee, and many have significant fines for failing to do so.

If your business does professional or contractual services for your clients, your contracts may require that you carry certain coverage before they'll send you work. The types of insurance you'll need will very based on the job, industry, nature of the risk, and the client's procedures. Here are a few examples to help illustrate the point:
Any business that provides a professional service or offers consultations, such as an

 

engineers or design professionals, may be required to carry

 

professional liability coverage.
Information Technology professionals may need to provide evidence of worker's compensation insurance before they can enter a clients facilities.
If you're a contractor, your clients may require that general liability, workers compensation, and possibly a

 

builder's risk policy. This assures them you can cover accidents, your employees injuries, and theft or damage to property under construction.
A few other notes on required business insurance, some client contracts may also require you to carry a certain amount of coverage, or to be insured with an insurance carrier of a specific size or rating. This all adds up to provide your client with peace of mind that you'll cover any financial losses in the even of a claim. In some cases, the requirements of a contract may exceed the limits of your current policy, you may be able to increase your limits, but often the better option is to consider buying a commercial umbrella policy. An umbrella policy can provide additional layer of liability protection for claims made under general liability, commercial auto, or employer's liability insurance.
You are encouraged to do your own research to determine the legal obligations for your state and industry, but don't underestimate the value an experienced insurance agent can provide when seeking the proper insurance protection for your small business.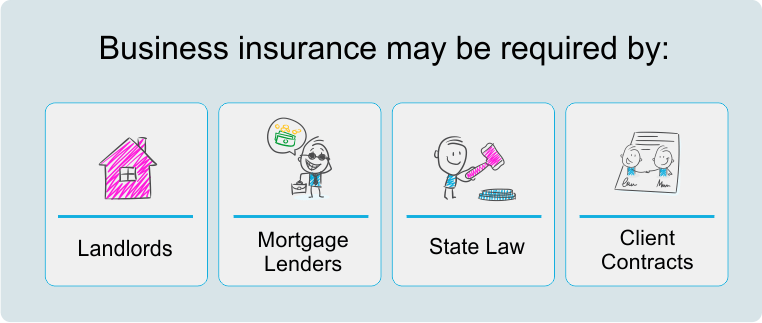 3)

Know the risks unique to your industry

Each business segment or industry has their very own set of risks. For example, an insurance agents needs to worry about being sued if they make a mistake advising an business owner about their coverage. The restaurant owner, needs to be concerned with food poisoning exposures – that's no fun.

For professionals like insurance agents, realtors or accountants (to name a few), professional liability insurance provides protection for errors they make in their professional capacity. The restaurateur is more interested in product liability insurance, for the protection it can provide for legal or claims expenses should people become ill or suffer an allergic reaction because of the food prepared in their kitchen.

By understanding the risk unique to your business or industry, you can buy business insurance to protect against them.
4)

Coverage IS more important than price

Business owners are, by their very nature, a budget sensitive group. So, after learning the correct policies a business needs, the owner will typically become focused on the price for that protection. That's normal.  After all, every penny counts and should be made productive. However, it's important to remain steadfast regarding the role that business insurance plays in protecting your business from serious financial damage. Sure, it's a sunk cost, but an extremely important one. Don't look for budget or "cheap" solutions.

A policy with lower premiums is different from a "cheap" policy – we concede that point. There are "cheap" options, however, and you may be tempted.

So, if you're being offered two options from well established, recognizable insurance carriers (eg. Travelers Insurance vs. Liberty Mutual), then you may be just fine when selecting the one with the lower premium. However, if you have been presented another with significantly lower premium, you need to ask a lot of questions. You see, "cheap" policies are priced that way for a reason. If you're considering these types of policies, as this questions first:
What are the coverage differences?
What are the exclusions and conditions that my limit coverage?
Does the carrier have questionable business practices?
Do they have good claims practices?
Frankly, you're better served when you buy business insurance from a reputable insurance provider. Additionally, you should always purchase the right protections, but the best coverage your budget will allow. If you go "cheap", you may find you are without coverage when you need it most.
Not sure what business insurance should cost, before you buy business insurance, check out our business insurance cost analysis.
5)

Learn what criteria affects your premium

As we discussed above, your industry will dictate the coverage you need, but it will also drive the rate you're charged. But there are other things beyond your industry that impact your premium. It's a good idea to understand the things that affect your rate. For instance, the size of your company, its location, and the property assets you wish to insure will all have an influence on the premium you pay. Additionally, your past claims history or the length of experience running your business or in your industry can impact you premiums.

Sure, many of these factors are beyond your control, there are things you can do to mitigate the overall premium expense, consider these recommendations:
Don't let your policies lapse:

Lapses in coverage can cause premiums to increase.

Safety & Security Alarms:

Fire suppression systems and security alarms may reduce your commercial property insurance premiums.

Create a safe work environment:

Safe work environments may equal fewer claims, and fewer claims keeps the premiums down.

Pre-screen employees:

Especially important if you have drivers. Employees with poor driving records who operate your business vehicles will increase commercial auto premiums.
Of course, the coverage and limits you select will have a big impact on premium, as will your deductibles. You need to get the maximum amount of coverage you can afford and the deductible may be a way to moderate the expense.
Be careful when evaluating the limits, coverage and deductibles when you buy business insurance, you can guard against the risk in your business, but you need to have the right protection, right limits and a deductible you can actually afford.
6)

Understand how your deductible works

Deductibles are most commonly associated with commercial property policies. However, you will find deductible options for professional liability and, in some cases, general liability policies. The deducible is the amount you'll be responsible to pay before the insurance policy pays for a covered claim. Typically, during a covered claim, you will pay your deductible first then your insurance carrier will cover the rest of the claim – up to the policy limit.

How does this impact your premiums? Well, the higher your deductible, the lower your premiums. If your budget is tight, you might be tempted to choose a high deductible. However, before you select a high deductible, you need to be certain your business can afford to pay the deductible should you file a claim. This is an extremely important consideration when selecting your deductibles.
7)

Be conservative

If you haven't been involved in a lawsuit, it cannot be stated strenuously enough that they are expensive. In fact, a lawsuit can be financially devastating to your business even if it's ultimately dismissed. That's right. It can cost thousands of dollars in attorney's fees just to establish you have no liability. This underscores the importance of proper business insurance protection – you can never know when an incident will arise that draws you into a legal battle.

Your business is undertaking risks every day. Customers can be injured on your premises, employees can become insured in the course of their job, employee drivers could have an accident on the road, a product could harm a client or customer, and the list goes on. If a customer is injured at your business, or an employee gets injured, expenses can add up quickly. Moreover, if a settlement or judgement is awarded and it exceeds the limits you bought, you would have to pay the difference. When considering your business insurance options and coverage, being conservative is your friend.
Pro Tip
If you operate a high traffic business or create products or services that run the risk of high value damages, you want to consider a commercial umbrella insurance policy to additional liability protection. It can provide additional coverage for business liability lawsuits that exceed your current policy's limits.
8)

Only work with highly rated carriers

If your concern is that your insurance provider stand by their promise when you buy business insurance, then you need to consider buying from an insurance carrier you can trust.

To begin building trust, you can review their financial rating. Business insurance should only be purchased from a carrier with an A rating or better with AM Best. This is an indication of being financially stable and reliable.

A rule of thumb is to select an insurance carrier you recognize, has a history of offering business insurance, or can be validated by a trusted advisor – like an insurance agent. But it's much more than their financial rating, you should want to know what services they offer, their claims and overall business practices, and how responsive they will be.

Of course, our friendly, licensed agents are available to answer your questions and help you evaluate coverage, carriers, and risk.
9)

Read your policy

All insurance policies may broad insuring agreements in their preamble, but then define terms, draft exclusions, and outline conditions that may limit coverage in some circumstances. In fact, policies will vary widely from carrier to carrier. To run your business properly, you have to know what is covered under a policy – and what is excluded – before you buy.

Reading your policy is not fun, and you will come up with reasons why your to busy to spend the time reading through the details of a policy. However, this could be time well spent. In fact, taking the time to read and understand a policy before you buy can be the difference in having coverage gaps, or discovering nasty and costly surprises down the road. This is another excellent example where insurance agents provide value.
10)

Don't be proud, ask for help

Buying business insurance is a confusing process. It's confusing for experience business owners, and more so for those just getting started. So, just starting out or vast experience, don't hesitate to get guidance from a professional. It's simply the best way to buy business insurance. Don't be too proud, reach out to an insurance agent. If you're worried that it will increase the costs, it won't.
The bottom line
There are ways to compare carriers, premiums, and options. So explore those before you buy. In fact, an independent insurance agent will often have multiple carrier appointments, so look to them for assistance as the can do much of the work for you. In fact, our expert insurance agents are always available to help. We'll connect you with an agent who has helped business owners just like you find the right coverage at the right price.
Want to get started? Complete our easy online application today to begin the process of comparing quotes for small business insurance – with top-rated insurance carriers of course. Once you may be able to start coverage in a little as 24-hours.