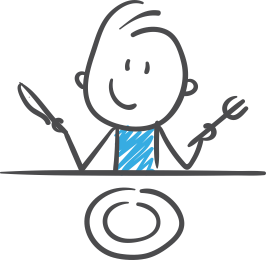 Restaurants are exposed to a wide variety of risks that make them vulnerable to lawsuits and other crippling liabilities. Commercial kitchens can be a dangerous place, your food stores can spoil, and a large number of people visit your location. Each of these are riddled with potential risk.
Restaurant insurance protects against these types of risk and helps prevent financial situations that are impossible to overcome.
Protect your business and livelihood with good business insurance. Our team of business insurance experts can help you find dependable coverage so you can concentrate on what matters most – your food and customers.
What does restaurant insurance cost?
Each restaurant has its own unique qualities that expose them to different types of risk. For this reason, the cost varies from business to business.
Common factors that influence your rate include the types of food you sell, cooking methods, and your building and employees, to name a few.
For example, a small coffee shop with limited cooking can expect their insurance cost to differ from a large tavern with a bar and full-sized industrial kitchen with fryers and ovens.
Why choose IronPoint Insurance Services, LLC
When you buy a restaurant insurance policy through IronPoint Insurance Services you are entitled to 24/7 claims service with our A-Rated insurance carriers.  For a free quote for restaurant insurance call us today at (877) 334-7646.
Disclaimer:
This is only a general description of coverages and of the available types of insurance and is not a statement of contract.  Details of coverage, limits or services may not be available for all businesses, with all programs, and may vary in some states.  All coverages are subject to the terms, provisions, exclusions and conditions of the policy itself and in any endorsement.