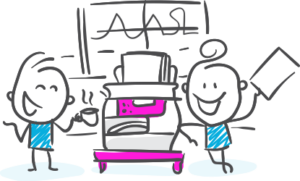 Commercial offices are everywhere — and there are almost as many different types of business as offices. From law and accounting firms to health care practices, the one thing they all share is a need for excellent office insurance.
No matter what your business is, if you have a loss without proper business insurance, you will quickly see your business plans get detailed.
Business insurance protects your business from the unexpected events that happen in and around your office every day. If a client slips and falls down your stairs, or major error in your work results in costly rework, your business could be jeopardized — along with the livelihood of those who work for you.
Whether you work out of a leased office, or a building that you own, our commercial insurance providers offer small business insurance for offices that offer protection and responsive claims service at an affordable price.
Learn more about our business office insurance programs for:
Architects Office Insurance
Insurance Agents
Real Estate Agents
Interior Design Business Insurance
Accounting and Bookkeeping Office Insurance
Consulting Office Business Insurance
Attorneys Office Insurance
Medical Clinic Business Insurance
Veterinary Business Insurance
Choose IronPoint Insurance Services, LLC
We know you're focused on taking care of your customers, clients or patients — shopping for commercial insurance for small business offices isn't high on your to-do list. That's why a Business Owners Policy (BOP) for professional offices is such a great choice. It includes the basic coverage needed by most professional offices, plus optional industry-specific endorsements for your company's individual situation.
Product, coverage, discounts, insurance terms, definitions, and other descriptions are intended for informational purposes only and do not in any way replace or modify the definitions and information contained in your individual insurance contracts, policies, and/or declaration pages from Nationwide-affiliated underwriting companies, which are controlling. Such products, coverages, terms, and discounts may vary by state and exclusions may apply.
Disclaimer:
This is only a general description of coverages and of the available types of insurance and is not a statement of contract.  Details of coverage, limits or services may not be available for all businesses, with all programs, and may vary in some states.  All coverages are subject to the terms, provisions, exclusions and conditions of the policy itself and in any endorsement.