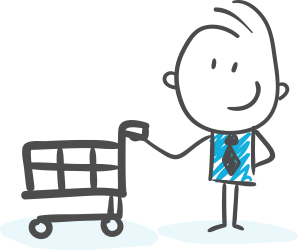 Whether they come to you for pet food or auto parts, your customers depend on your store for products and expertise. So don't let an unfortunate event cut into your margins or close your business. If a utility interruption closes you down for a week, could you still make payroll? What if your stockroom is flooded or robbed — do you have a way to pay for replacement inventory?
Make sure you have the protection you need if something goes wrong. We have A-Rated carriers that offer retail and service business insurance for stores just like yours. We understand the risks you face everyday, and our carriers offer affordable, easy-to-buy retail store insurance for a wide range of categories.
What types of retail stores?
Auto Parts Business Insurance
Home Improvement Business Insurance
Pet Store Business Insurance
Apparel Store Insurance
Dry Cleaning Business Insurance
Florist Business Insurance
Strip Center Commercial Insurance
Do you need insurance for your store?
Whether you sell flowers, shoes or light bulbs, most retailers need a common set of retail store insurance protection, such as business property insurance and business liability insurance. IronPoint Insurance Services and our carriers offer Business Owner's Policies for retailers including these essential coverages in a single policy that's affordable, customizable and easy to manage.
Why choose IronPoint Insurance Services?
Depending on your type of business, your location and other factors, your retail insurance needs could be very different from a similar store a few miles away. Call an IronPoint Agent today at (877) 334-7646 and get your free quote.
Disclaimer:
This is only a general description of coverages and of the available types of insurance and is not a statement of contract.  Details of coverage, limits or services may not be available for all businesses, with all programs, and may vary in some states.  All coverages are subject to the terms, provisions, exclusions and conditions of the policy itself and in any endorsement.