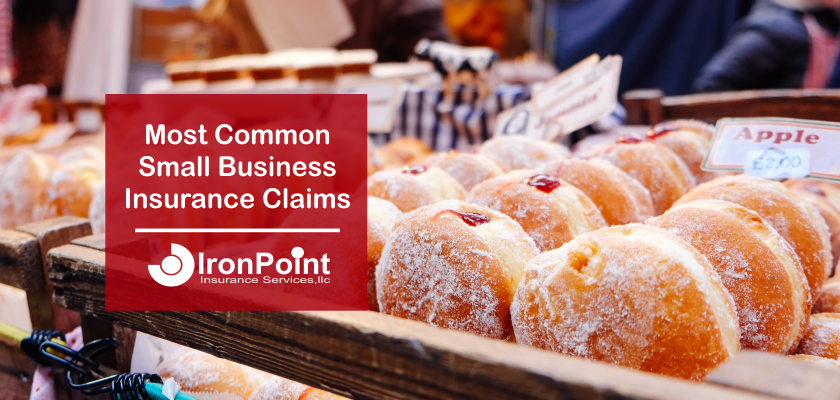 One of the difficult things about selling insurance, and small business insurance isn't any different, is that the well intentioned consumers who purchases these financial services don't intend to have insurance claims.
This belief is actually understandable because the percent of businesses that suffer a loss is, in fact, actually very low. This is a good thing because if it wasn't for the low frequency of loss, then insurance would look much different and cost much more than it already does. But that's a topic for another post.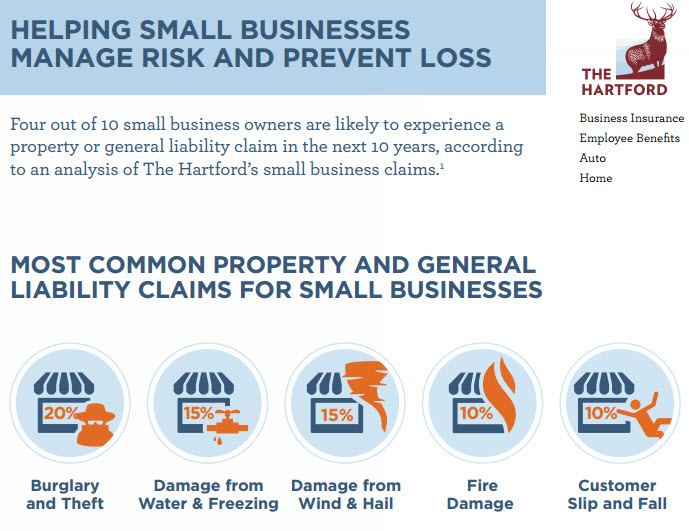 The reality is that business insurance claims do happen, and while they don't happen frequently, when they do happen they can be very expensive. This isn't a matter of opinion, however, it's an objective fact. And while the data isn't always readily available to the average consumer, insurance carriers keep these numbers and they use them to predict what the costs to cover claims will be in the future.
But this isn't a secret that's being withheld from consumers, in fact insurance carriers will share this data periodically.  Recently, The Hartford published their annual business insurance claims study, and in consecutive years, burglary and theft incidents were the most common business insurance claims.
You can study the infographic to the right, and you'll see that burglary and theft claims account for 20 percent of all business insurance claims.
If you own a retail store, this is neither a surprise or exactly good news, but for other business classes that don't allow consumers or the general public to traffic the workplace, this make signal a bit of a reduction in your overall exposure.
Don't be fooled, most burglary and theft claims aren't the sexy, high-ticket, Hollywood plot making heists. In reality, the average burglary and theft is not a muti-million dollar affair, but it is still a significant amount for a small business at an average of $8,000
The bright-side of this story is that you can manage this exposure trough a combination of risk management and small business insurance.
What Small Business Insurance Covers Burglary and Theft?
If you purchase your small business insurance as a package or Business Owner's Policy (BOP), you can get the coverage you need for burglary and theft claims. When you review your policy with an insurance agent,  make sure you have one of these two forms of coverage:
Commercial Property Insurance: This is the coverage that you'll need when supplies, equipment, inventory, or furniture are stolen from your business, in most cases it will be your commercial property insurance that will provide coverage for a covered burglary or theft loss.
Inland Marine Insurance: If your business has products or property that moves from location-to-location, then you'll need a more specialized form of insurance called inland marine insurance. For businesses that place property in transit, commercial property insurance may not be sufficient, and the coverage for a covered theft or burglary loss would come from a inland marine policy. If your business moves products and property from place-to-place, you need to make sure you have this form of protection.
Risk Management Solution: Preventing Burglary and Theft
Having to suffer through a burglary or theft claim is going to be unpleasant. It's best if you can find solutions to mitigate your exposure to this risk, it will save you money, time, and keep your business insurance rates lower in the long run.
No risk management solutions will completely eliminate all incidents of burglary or theft, there are always steps you can take to reduce your exposure. Here are seven (7) ways you can reduce these incidents:
Alarm System: Installing an alarm can provide needed security that can deter criminals from targeting your business. Make sure to select an alarm that can be controlled and monitored remotely either on your smartphone, tablet, or PC.
When you select an alarm system, choose one that is UL-certified monitor and includes round-the-clock monitoring by a Central Station.
Create a routine and formal procedure for locking every access point (eg. doors, windows, back doors, etc..) to your buildings and vehicles. Your property should always be locked when you're not there.
Develop a tracking system for all keys, key-cards, or alarm pass-codes provided to employees. If employees borrow keys, make sure you recover them when employees no longer need them.
It is always good policy to conduct a background check on all employees before you formally hire them.
Trim back an trees or bushes that provide hiding spots for criminals seeking to gain forced entry into your building.
Use security cameras to record footage of vulnerable areas and areas where valuable property is stored. The data should be stored off-site and backed-up with a copy. Each camera should be set-up in a way that it will capture images of faces of all those entering and within the building (empoyees and customers).
What Do the Experts Have to Say?
It's easy for us to advise you to lock your doors and buy an alarm, but you should really consult a security expert. In fact, most business security experts agree small business owners should seek consultation from  qualified security firms in order to find the right system for their needs.
Here are a few tips you may get from your local experts:
Before signing any contracts, owners should walk through their facilities with prospective security firms, who should understand how the business works to accurately assess the company's needs. They should review entrances and exits, vulnerabilities and physical structures, the number of employees and how they arrive and leave work. They should know the business's hours of operation and what happens after closing, then design a system based on the business's schedule and who is authorized to be there.
Small business owners should hire an outside consultant to perform a security review.
To insure unbiased advice, they should select someone with no vested interest, who would not be bidding for the job and with no incentive to sell anything. The security review should describe what the owner needs. Based on that information and the consultant's advice, the owner can then bid the system with greater certainty.
Ask for and check security company references, don't just leaf through the Yellow Pages or look them up on the Internet. That improves the odds of choosing the best contractor.
Owners should request a per door price for their business's security system, noting that a typical convenience store might require a three or four door system.
Small business owners should seek to install security systems that are scalable and allow expansion later so they don't have to start from scratch when change is needed.
Security consultants recommend contracting with local security firms or national companies with local offices, someone available and accountable.
Avoid signing long-term contracts. If you don't like the service or product, you can switch without fear of legal repercussions.
Security experts warn that some firms encourage business owners to spread out payments for equipment over years, not realizing until it's too late that they've made interest payments that collectively cost more than the equipment.
When building or remodeling your business, hire your security consultant to work with the architect in the design and construction process. Security experts said that will save time and money in the long run.
Conclusion
In the end, determining the "right" choice for your business is a combination of working with your business insurance agent and security professionals to identify your unique needs and the right mix of products that fit into your budget and provides the proper protection.
In some instances you may discover a simple solution is correct, and for others, you may require a more sophisticated and complex system. Regardless, with burglary and theft being the largest exposure most businesses have, getting the proper information and creating a strategy to combat the risk is only smart business.
Image Source: Leon Ephraim