Most Friday's my wife and I are pretty wiped from the week and we spend a lazy night together lounging on the couch and watching a movie. It's a far cry from the party nights of our youth. 🙂
What can I say, we have kids, and I'm an insurance agent for goodness sake … what do you expect!
Typically, we can choose from any number of blockbuster films because we just don't make it to the movie theater too often. However, on occasion we get "risky" and try a small budget independent film.
It's always such a pleasure when they're good.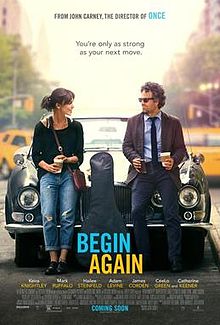 That was the case a few month's back. I had heard that the movie Begin Again with Mark Ruffalo and Keira Knightley was pretty good, and I was feeling particularly risky that evening, so ordered it On-Demand.
I love music and this was a movie about music, so what could go wrong.
I'm not going to summarize the movie for you, I don't wan't to spoil anything should you elect to watch the film. But I will say that it's a story about a music producer who is down-on-his-luck and a passionate, idealistic songwriter. The story and the chemistry are both very good.
But we expect that from a Mark Ruffalo film, and Keira Knightley is maturing into a good actress.
What does this have to do with acoustic guitar music?
What I didn't expect was that Adam Levine was going to be in the movie as the love interest to Keira Knightey, and that he would both do a good job and provide us a very cool acoustic (at least partially) acoustic version of one of the movie's many songs.
I'm fairly indifferent to Maroon Five and Adam Levine … neither a fan or otherwise. But I found myself totally liking this song.
The soundtrack for the move  was released on June 30, 2014  by Gregg Alexander's record label ALXNDR, Levine's label 222 Records, Polydor Records, and Interscope Records. Most of the music on the  film music was written by Alexander with help from Danielle Brisebois, Nick Lashley, Rick Nowels, and Nick Southwood.
This song was actually nominated for an Academy Award for Best Original Song.
Conclusion
This week we get a 2-for-1 deal, not only are we treated to a pretty cool acoustic song, but we also got a movie review. I hope you enjoy the song and if you watch the movie and disagree with my take, please come back and leave us a comment.