Drivers working with Transportation Network Companies (TNC) like Umber and Lyft have been without serious private passenger auto insurance solutions. But that's now about to change.
For California drivers who want to earn some extra cash driving for Uber or Lyft, Mercury Insurance has announced that it will offer a ride-hailing insurance that will cover Transportation Network companies like Uber and Lyft.
This new coverage will provide much needed coverage that will bridge the gaps between personal auto insurance coverage, and the coverage provided by the TNC.
This is good news. For decades private passenger auto insurance policies have had specific exclusions for livery and ride-for-hire, but TNC's have shaken-up the market. Frankly, with the huge popularity of Uber and Lyft, it's getting to the point where private passenger auto insurance carriers simply can't avoid the issue any longer.
Until now, if a ride-sharing driver got into an accident at any time when the app was on, the private passenger auto insurance policy would most likely not provide coverage under the livery exclusion. This presents a real problem because the TNC's insurance coverage may not provide coverage unless the driver had accepted a ride.
This means there is a gap in coverage between the time of launching the app, and accepting a fare.
This new coverage offered my Mercury Insurance will close that gap and provide drivers with access to coverage, between what is offered by the TNC and Mercury Insurance, throughout the entire ride cycle.
"Many Californians enjoy driving for companies like Uber and Lyft as a great way to earn a living or make extra cash because they can set their own hours, be their own bosses and meet new people," said Jim Reeves, Mercury's research and development group manager. "Many of them are unknowingly putting themselves and other drivers at risk, however, because they don't have adequate insurance coverage in the event they get into an accident when their app is on, but they haven't accepted a ride.
"Mercury wants to ensure these individuals are able to earn an honest living without having to worry about paying costly repair or medical bills out-of-pocket – and we'll be able to offer this peace of mind for as little as 20 cents a day."
Here is how it works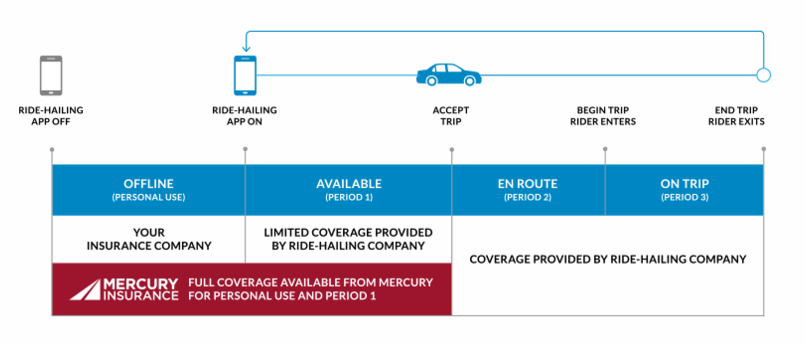 Ride-hailing is divided into three phases:
Phase one: Drivers have turned on the ride-hailing app, but haven't accepted a fare
Phase two: Drivers have accepted a fare and are on their way to pick up the passenger(s)
Phase three: Drivers are transporting passengers to their destinations
Insurance for Uber and Lyft that closes the gaps
Mercury's ride-hailing insurance is designed to provide coverage to drivers during the first phase of their trip. It's in this phase of the drive-cycle that most private passenger auto insurance providers don't pay for claims, and the insurance provided by the TNCs policy is very limited.
Currently, if a driver gets into an accident during phase 1, they may end up being responsible for the damages to their own vehicle, and the TNC liability coverage may be capped. But with Mercury's new ride-hailing insurance coverage, there will be additional coverage above the TNC coverage, and the insured vehicle can be repaired (assuming it's a covered loss and the proper coverage was purchased).
Mercury Insurance has been provide auto insurance coverage in California for over 50-years. They have historically been one of the most competitive auto insurance providers. So, it's no surprise that they would be one of the first to understand the need for this form of protection, for both the ride-share driver, and the drivers they may have accidents with.
Currently, Mercury's ride-hailing insurance is only available to California ride-share drivers. If you're interested in getting a quote, you can call us at 877.334.7646, or get an online quote:
Conclusion
For a long time, one of the leading questions we would get form prospective auto insurance clients was, "can you get me insurance for Lyft or Uber?" With the new ride-hailing insurance offered by Mercury Insurance, it's great that now we'll be able to say "yes!"
Image provided by Maryus Bio