We often marvel at the clever entrepreneur who comes up with a new product or service, especially one that disrupts an established industry.
Today, it seems that technology, combined with social media and peer-to-peer networks, are combining to offer disruptive new products and services that challenge the economic models of traditional business categories every day.
As a consumer this is perceived as a good thing, and sometimes it is, but when it's your business being disrupted … well … that's an altogether different story. Right?
By now we've all heard of the success of Airbnb and Uber, both are peer-to-peer products that have proven hugely disruptive forces in their respective markets. Consumers, increasingly, are seeing these companies as alternatives to traditional hospitality and livery.
This can be good news for consumers, but a real challenge for companies like Yellow Cab Company and Hilton Hotels.
As a student of business, it's easy to look at these new peer-to-peer alternatives and appreciate their ingenuity and even envy their use of social media and social networks to carve-out new market alternatives. But when it happens to your business, you begin to think differently.
Early this month a new insurance company called Lemonade Insurance announced $12M of initial funding for a peer-to-peer insurance company here in the United States. According to the founders, this new company is going to remove the stigma associated with conventional insurance by removing the bloated bureaucracy.
According to the founders, they believe people view insurance "as a necessary evil rather than a social good." This is something the founders of Lemonade would like to change.
This is not the first peer-to-peer insurance company
Lemonade Insurance didn't invent peer-to-peer insurance. Friendsurance is a German insurance company that pioneered the idea back in 2010.
Like Lemonade, Friendsurance has been able to secure impressive amounts of funding and has an innovative, technology driven platform. But it's uncertain that they've been able to truly disrupt the German insurance market.
It is highly unlikely that Lemonade Insurance would propose to be a "me-too" of the Friendsurance model, as the Friendsurance model appears to only be for smaller claims, and requires larger, traditional, insurance carriers to partner for the larger losses.
(From the Friendsurance web site):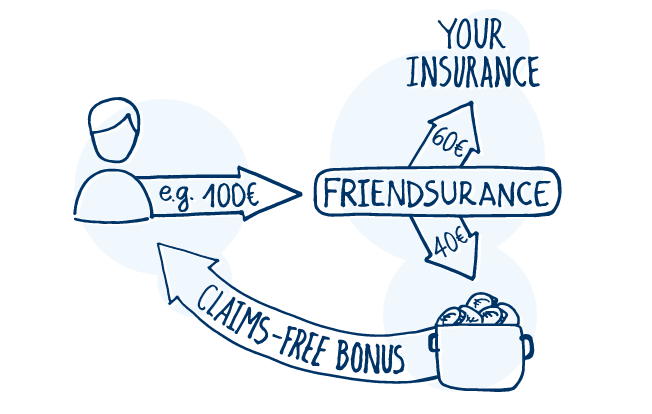 Lemonade will take advantage of the same consumer sentiment, desire for savings, convenience, and fair-dealing that has led to the success of other peer-to-peer companies … just as Friendsurance has.
Will Lemonade be the Uber of the insurance market?
Only time will tell if Lemonade will have the same impact on the insurance market as Uber has had on livery, or Airbnb on hospitality. As of now, very little is known about how Lemonade intends to design its insurance products, the lines of business they intend to write, and the amount of coverage they'll afford.
What do we know?
The founders of Lemonade were able to impress the investment community enough to secure a sizable sum of money as initial funding … so their idea must be intriguing. Their leadership has had success with other tech startups, so they're not fools. And unlike Uber and Airbnb, Lemonade is working with regulators to gain approval of their products, so they appear to be willing to play on a level playing field.
So, will they be successful?
Because so little is known about Lemonade, it's hard to tell what, if anything, they will change. If your business is insurance, however, I recommend you continue to watch and monitor this developing story.
I can recall listing to a successful CEO from a large personal insurance carrier deliver a speech in the mid-1990's. The speech was delivered at a trade-show, and shortly after the introduction of the now popular GEICO Gecko commercials. The CEO was discounting the impact GEICO would have on the auto insurance market, providing clever facts and intuition that bolstered the traditional carriers.
He was wrong. GEICO was a disruptive force in the auto insurance market, has elevated to a top-3 national writer of auto insurance, and has spawned many copy-cat models.
Here's our two cents ... offered for free :-)
The founders of Lemonade indicate their desire to reduce the bloat and bureaucracy of the current insurance model. An ambitious goal to say the least. As a new entrant to the scene it may be easier to attack the problem from the expense side of the ledger, as claims (losses) can be much more challenging. It is difficult to see how a new company, with limited data, would be able to create models to select risk better than the current carriers with their vast archives of data, especially in highly competitive lines like auto insurance.
So, for now, lets stipulate that any insurance carrier with sufficient scale, would, at minimum, be subject to the average loss costs for property and injury adjudication.
If the solution is to cut the bureaucracy, where do you start? With the insurance agents and their commissions? This has already been done with the direct-to-consumer models like GEICO (mentioned above).
Is it to cut the costs of underwriting? Will they eliminate the use of expensive third-party database reports, or the use of professionals who review risk prior to binding? This could subject them to adverse selection relative to sophisticated underwriters like Progressive, Travelers, or The Hartford.
I can't image they would cut the claims department, who would review each claim for proper payment? Wouldn't this subject them to over-payment in the form of missed coverage issues, or failed investigation or evaluation?
Since GEICO and other direct-to-consumer carriers have already removed the agent commissions, replacing it with advertising dollars, the only other areas for potential savings are in loss adjustment expense and general/operations expense, as it is certain that the premium tax will remain constant.
How skinny can they make claims, underwriting, service, and actuarial departments and still deliver on the promise to emphasize the social good insurance offers? How will they properly underwrite, investigate fraud, help during a catastrophe? Where is the investment in service, and claims resolution going to come from?
Insurance companies understand their market, and they know that the "winners" are those that have models for superior risk selection that result in better than industry average loss costs, but these savings are in small increments 1-4% in combined operating ratios. Insurance companies also understand they need to make better use of technology to make the claims and underwriting process more efficient ... that's elementary.
The challenge is in reducing the expense and still meeting the need of a proper outcome, proper risk selection, and service. In the end, an insurance company needs to be there when a claim occurs. Consumers want low premiums and claims payments to be made quickly. The insurance carrier wants the same, with the added element of ... where the coverage is provided.
Insurance products are complex, they are far more sophisticated than a hotel room or a ride across town. Insurance is also part of the foundation of our larger economy. It takes more than a slick interface and the novelty of the emerging peer-to-peer economy to deliver on the promise of social good.
Conclusion
Market disrupters come in all shapes and sizes, they can present themselves like GEICO did, as mature business that takes on new risks (eg. heavy investment in advertising), or with a completely new idea, like Uber.
It is up to those who control market share in a given category to observe, react, defend, or take advantage of new opportunities. We look forward to seeing if Lemonade will shake-up our market, and we're prepared.
Image Source: Anda Ambrosini