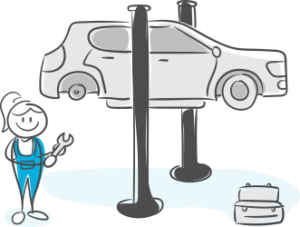 If you own a garage, the community depends on you for quality auto repair service to get them back on the road fast. This means you need quality garage insurance.
If your business is stalled (or even shut down) due to an unfortunate incident, will your current garage insurance help you get back in the driver's seat quickly? Your business has unique characteristics and therefore needs a specialized insurance, sometimes even beyond what is offered in a standard business owners policy.
Any number of events can threaten your day-to-day operation: Weather damage, fire, personal injury -- even damage to a customer's car. If you have to pay for repairs or settle damages because you don't have proper garage insurance, that could seriously threaten your business.
IronPoint Insurance Services represent A+ and A Rated insurance companies that provide complete, affordable garage insurance for auto service industry shops just like yours.
LOOK TO IRONPOINT INSURANCE SERVICES FOR GARAGE INSURANCE
We know you're busy running your auto repair and service shop. So we make choosing garage insurance policy easy. A Business Owner's Policy (BOP) for the auto repair industry combines several basic coverages with specific coverages designed around the needs of auto service and repair shops
WE WORK WITH A VARIETY OF AUTO SERVICE AND REPAIR BUSINESSES
Our carriers offer automotive repair shop insurance for many different types of auto service and repair businesses. We provide coverage for air conditioning service companies, auto glass replacement, muffler, transmission and brake shops, radiator service, quick lubes and emission testing facilities, and others.
OPTIONS FOR AFFORDABLE, CUSTOMIZED AUTO REPAIR SHOP INSURANCE
Your policy can also be customized with additional, affordable options you may need for complete coverage, such as:
Portable Tools and Equipment
Business Personal Property Off Premises
Garage Liability
Exterior Building Glass
GARAGE INSURANCE MADE EASY
IronPoint Insurance Services is ready and waiting to help you find the right garage insurance policy for your business, and with our A-Rated carriers you can expect 24/7 claims services and customer service.  Ready to get started?  Call IronPoint Insurance Services today at (877) 334-7646 for a free quote.
Disclaimer:
This is only a general description of coverages and of the available types of insurance and is not a statement of contract.  Details of coverage, limits or services may not be available for all businesses, with all programs, and may vary in some states.  All coverages are subject to the terms, provisions, exclusions and conditions of the policy itself and in any endorsement.