How can Facebook help us to better understand the need for good business insurance? Well, directly, it really can't. However, Facebook is now embroiled in a new class action lawsuit and it underscores one of the main reasons small businesses need good insurance protection.
Hey, Facebook can be useful! :-)
Admittedly, I'm not the most active Facebook user. I'm not up-to-date on all of Facebook's policies and practices. But I'm led to understand that Facebook will send a text message to users as a reminder to send birthday wishes to friends. On the surface it's hard to see how this process is harmful, but I guess there are those who find these texts annoying. Beyond the annoyance, however, is the reality that many don't recall consenting to this practice.
This has lead a Florida man to claim that Facebook has violated the Telephone Consumer Protection Act, and he's pulled together a class of similar minded Facebook users.
What's at the heart of this lawsuit?
The claimant alleges that Facebook sends him text messages, altering him to a friend's birthday. These texts invite him to write on his friend's timeline or "reply with "1" to post "Happy Birthday!"
Seems simple enough, but the claimants are arguing that this activity is a violation of the 1991 Telephone Consumer Protection Act. According to the lawsuit, this behavior is telemarketing and is used to increase Facebook's revenues by causing more people to interact with the social media site.
The Telephone Consumer Protection Act requires that messages of a marketing nature only be sent to those who have provided advanced consent. And while it's true that you can opt-out of these types of text communications by changing your Facebook settings, the claimant contends that he did opt-out ... but Facebook continued to send the messages anyway.
The claimant(s) want Facebook to stop sending these text messages, and they are also seeking $1,500 for each message received by each user in the class action.
Ouch! That can get pretty pricing given that there are now approximately 219M Facebook users in the United States: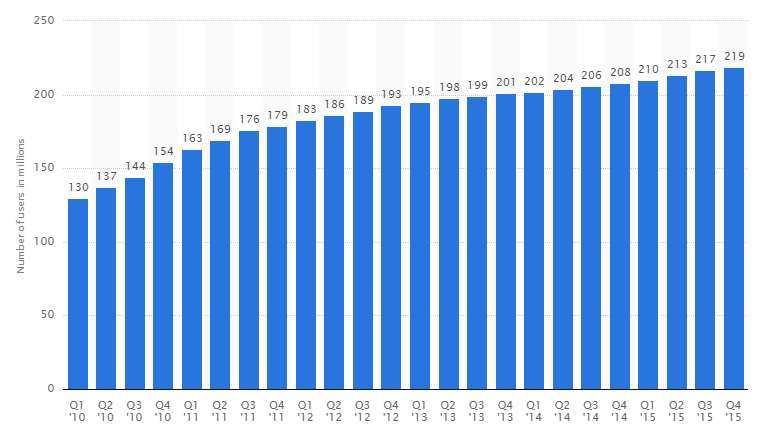 How does this apply to business insurance?
We've talked about the importance of general liability insurance in many of our posts, but this case actually underscores just how important that protection is. On the surface this case seems like it shouldn't even be before the court. It sounds silly and opportunistic ... almost hard to believe its real.
But it is real, and it's consistent with the law, which states that "consumers can seek $500 per violation or $1,500 if they can show the violation was willful."
In a recent post, Fortune pointed out that there is precedent for deciding in favor of the message receivers in a case like this:
In the last year, Western Union  agreed to pay $8.5 million to resolve a class action over unsolicited text messages while Uber and Yahoo are currently in court over similar lawsuits. The Federal Communications Commission has also become more aggressive about text-based marketing, posting a notice last year to remind consumers that unauthorized texts are illegal except in the case of an emergency.
This case may ultimately get tossed out, or the claimants may get to trial but not prevail. Given that the case has made it this far, regardless of the ultimate outcome, one thing is certain ... this going to cost money to litigate. Sometimes it doesn't matter if your right, it will still cost you money, time, and cause anxiety. This is why you need to have good business insurance. You need the assurance that your business is safe when a case is brought against you for an error, a programming bug, or for an actual liability.
Conclusion
You can't fully predict what is going to happen today, and you have less control over what will happen tomorrow. Business insurance is for the uncertainty that exists around us, it allows us to take chances, and extend ourselves beyond the boundaries of the normal.
Image provided by Stephanie McCabe